RFQ Cover Letter: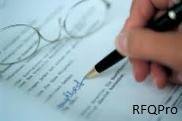 A RFQ cover letter or request for quote cover letter can take on many appearances. It can be anything from a simple hand written fax cover page to a formal business letter style template.  A RFQ cover letter is also known as an invitation to quote letter and like the RFQ cover letter, it is used to connect the buyer and supplier. It usually requests price and delivery for a product or service requirement. For a sample Request for Qualification cover letter go to bottom of this post.
Your cover letter should include an issue date, buyers complete business address, subject – RFQ for ____, your offer (quote on supplying, etc), an acknowledge by date,  reference to an instructions page, possibly a reference number, may include some background details, where, when and to whom the response must be addressed to and finally, close it with your signature and title.  The following is a simple illustration of this type of template layout.
Date
Return Address (if letterhead is in place this is not required)
Salutation: Dear Sir
Subject Line: RFQ#233 – Forklift Truck
Body
Complimentary Close: Sincerely or regards
Signature Block: Signature, Printed Name, Title
If you are still unsure on the layout or how to word your cover letter, RFQ2 is a formal business cover letter template in Microsoft word format you can edit and use to deliver your own request for quote (RFQ). It is available in our premium pack or if you subscribe, you will receive it for FREE in our welcome pack.
Request for Qualification Cover Letter
Is there another definition of a RFQ Cover Letter? Yes, RFQ can also mean request for qualifications and in this instance the buyer would be instructing a vendor to complete an enclosed application or provide documentation to ensure vendors can complete the work (qualify). In some cases, it is to ensure vendor can legally compete for the business. You might word your RFQ cover letter like this:
[YOUR COMPANY] is seeking firms and others that could potentially [DESCRIBE SERVICE].  If your firm would like to be considered as part of this process, we are requesting you complete the enclosed forms. If you choose not to respond to this request, your firm will not be considered.
We are compiling a list of interested participants.  After review, we will submit a request for proposals (RFP) to those participants that we deem qualified.  Our proposed schedule is as follows:
March 12:   Mail Request for Qualifications (RFQ's)
April 25:   Deadline for submission of RFQ's
April 26-May 7:   Review of RFQ's
May 12:   [YOUR COMPANY] determines qualified firms
May 14:   Mail Request for Proposal (RFP's) to qualified firms
May 21:   Mandatory site visit of facility
June 13:   Deadline for submittal of RFP's
July 14-25:   Financial analysis of proposals
July 28:   Award
[Add any other pertinent details here]. Firms interested in being considered must complete the Qualification Questionnaire.  Proposals are due on or before [DATE & TIME].  Two (2) copies of your complete packet, sealed in one package must be delivered to:
[COMPANY NAME] [ADDRESS]
Questions regarding the RFQ package should be directed to:
[YOUR NAME] [TITLE] Phone: (NNN) NNN-NNNN
E-mail:
With the above cover letter, the buyer includes an application form or questionnaire which the vendor would be required to complete and return if they are interested in providing the service.
RFQ68 – Request for Qualification Cover Letter is in our Premium and Mega Packs. Let RFQPro help simplify and manage the procurement process.